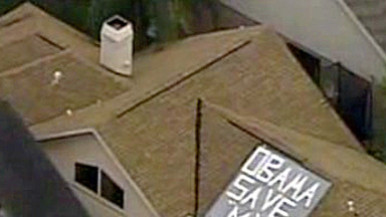 Dinah Lard and Angela Grippon Beg Obama for Help
(Associated Posers) – TAMPA, Florida - Dinah Lard thought that electing Barack Obama to the White House would solve all her problems like getting her a new kitchen, paying her mortgage and buying her gas. Things have come to a head in the past few years as the economy has continued to go bad. A successive series of part time jobs, paying less and less finally ended in March when she was terminated from her clerk position at a retail outlet.
"I thought having a black person, like me, in the White House would make a big difference" she explained "I thought he would do something for his people"
On food stamps she and her lover Angela Grippon put a giant "HELP ME OBAMA" on the roof of their home in the hopes that getting attention to their plight would bring relief. "We don't want to sell the house" Angela said "It's worth more than twice what we paid but it's sentimental to us"

Dinah Lard
The attention did not bring the President to her Tampa home but the media exposure might help make people think about all those not doing so well. "We are better off than some people" Dinah said "But we both agree than being triple minorities should mean we win the lotto. I mean, where are the benefits?"
"I'm not asking for much. Just pull a little something something out of your stash and spread the wealth around like you told that plumber you wanted to do" Dinah continued "We even asked Romney for help, he's rich, he can pay reparations, we'll forgive his ancestral sins".
"Absolved!" Angela chimed in and laughed.
They admitted to being disappointed in Barack Obama's first term "But he'll have more leverage after he wins a second term. He might even do something to earn that Nobel Prize, you never know"